The Ultraformer Procedure
Your practitioner will examine your skin to determine whether Ultraformer is right for you, and will talk to you about what to expect from the treatment.
During Ultraformer treatment, low amounts of Micro-Focused Ultrasound energy (highly focused heat energy) are delivered into precise skin depths, without damaging the surface of the skin. This triggers the body's rejenerative mechanism that produces new collagen – the building blocks of firm, supple skin. The result, over time, is natural looking and long-lasting skin lifting, tightening and rejuvenation – without the downtime of surgical treatment.
Three separate cartridges will be used on each area – one for each of the targeted layers – and this will result in a multi-layered lifting and tightening of the skin. You can expect some discomfort, particularly when the SMAS (the deepest) layer is treated.
You may experience some temporary numbness, tingling, or redness after treatment. You should feel some immediate contracting of the skin in the treated area, but the benefits will build gradually over the ensuing months as the collagen and elastic fibres build.
The Ultraformer Technology
Ultraformer is the premium multi-functional ultrasound device offering both cosmetic and therapeutic indications of use.
Offering eye (repair of potosis), face and neck lifting and tightening in one system. What makes the Ultraformer stand out is that it can be calibrated to target arious skin layers to elicit both an immediate and long-lasting lifting and tightening effect.
Ultraformer introduces the next generation non-invasive face lifting, tightening and contouring system that delivers natural looking and long-lasting results without the downtime.
Ultraformer utilises the most advanced Micro-Focused Utrasound technology in the market, capable of dermal and deep dermal heating as well as SMAS contraction for a multi-layered lifting and tightening effect.
The highly-focused energy heats targeted areas to temperatures of 60-70° C, the ideal range to denature collagen and facilitate tissue contraction.
Technology Evolution Over the Years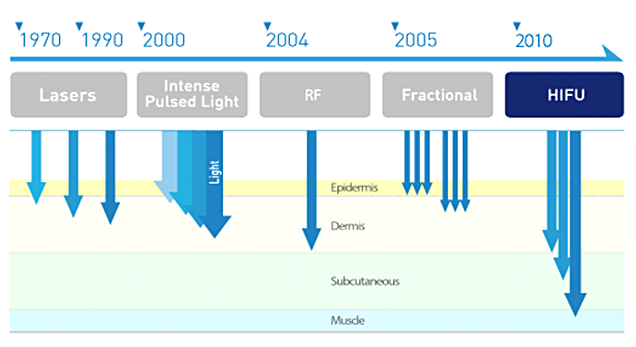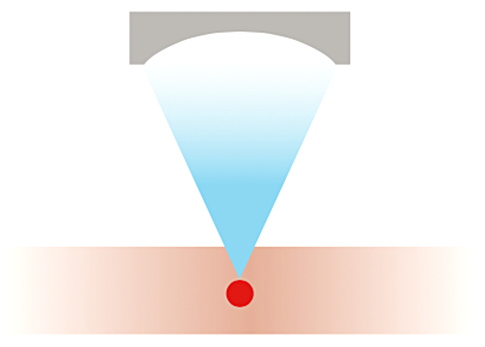 New technology in the Ultraformer focuses ultrasound energy more efficiently into a target zone, resulting in less dispersion of heat to sensitive layers of the skin for enhanced comfort.